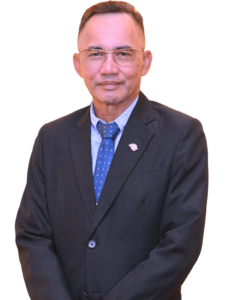 WORKING EXPERIENCE:

• Started his career in 1988 as Research Assistant at Universiti Putra Malaysia. He was then appointed as Logging Officer at Syarikat Kayu Kayan Kedah Sdn Bhd from 1989 to 1991.
• Has more than 16 years' experience working in several Forestry Departments in the states of Kelantan, Pahang and Terengganu before serving as a Wildlife Officer at the Department of Wildlife and National Parks for five years.
• Appointed as Senior Operations Manager at Kumpulan Pengurusan Kayu Kayan Trengganu (KPKKT) Sdn Bhd on 1 January 2014.
• Currently, he is the Head of Strategic and Process Improvement at GPB.
QUALIFICATIONS:

• Bachelor of Forestry Science, Universiti Putra Malaysia.
• Diploma in Forestry, Universiti Pertanian Malaysia.