YBM DATO' HAJI TENGKU HASSAN BIN TENGKU OMAR

Chairman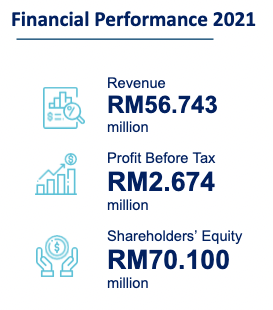 Assalamualaikum Warahmatullahi Wabarakatuh dan Salam Sejahtera.
Dear Valued Shareholders,
It is my pleasure and privilege to present on behalf of the Board of Directors of Golden Pharos Berhad. I am pleased to report that GPB performed commendably in FY2021 despite operating in similar conditions and facing similar issues that suppressed our results in the financial year before. The Group was able to return to profitability as we concentrated on resolving previous shortcomings and improved our capabilities to better cope with the volatile COVID-19 environment.
During the year in review, we grew Revenue by 20.1% to RM56.7 million in a year when we were faced with COVID-19 related business disruptions, extreme weather conditions during the timber harvesting season, and manpower shortage in manufacturing due to the continued closure of Malaysia's borders to foreign workers.
Based on the revenue increase complemented by higher margins and better cost control, we successfully reversed the previous year's losses to gain a Profit Before Tax (PBT) of RM2.7 million and a Profit After Tax (PAT) of RM659,000.
Although our profits may be modest, nevertheless, they represent a significant milestone given the unfavourable circumstances outlined earlier. More importantly, we are now in a stronger posture to drive growth and achieve healthy returns at a time when Malaysia and the rest of the world are beginning to ease out of the two-year pandemic.
At the very least, our experience in prevailing against such daunting challenges has renewed confidence in our capability to overcome future shocks and obstacles to operate effectively in volatile environments.
On this note, the Board is proposing a single-tier dividend of 0.90 sen per share amounting to a dividend payout of RM1.4 million for the financial year ended 31 December 2021. The proposal is subject to the shareholders' approval at the 35th Annual General Meeting which will be held on 16 June 2022.
Going forward, GPB will continue to cultivate improvements in human capital and sustainability, two key areas that proved to be the defining factors in overcoming or circumventing issues affecting our performance.
HUMAN CAPITAL
Despite a reduction in workforce, we managed to increase glass production in a year beset by shutdowns. Our glass manufacturing operations faced labour shortages resulting from the departure of foreign workers and the lack of replacements following the closure of the country's borders due to COVID-19.
We addressed these labour issues by focusing on recruiting locals, which was challenging as our businesses are categorised as 3D (dangerous, dirty and demanding). Despite the reduction in our foreign workers, we managed to increase productivity, particularly in Q4 2021 when our glass business faced an upswing in demand following the restarting of construction activities after the protracted stoppage during the year.
The Group will continue to leverage on the talent of our human resources to drive performance in all other areas of operations.
CORPORATE SUSTAINABILITY
GPB continued in FY2021 on its commitment to practising sustainable business activities with consideration towards our environmental, social and governance (ESG) responsibilities. Processes and procedures that were strengthened to drive sustainability across all our operations and activities served as a guide to solve problems, find solutions and manage risks.
We have placed matters of integrity and anti-corruption high on our agenda, with our Integrity Governance Unit (IGU) and our Organisational Anti-Corruption Plan (OACP) committee respectively. We have actively addressed our workers' and sub-contractors' safety and health and at the same time increased our focus on environmental matters pertaining to climate change.
In turn, our experience for the year has highlighted the value of maintaining focus on improving sustainability performance in every aspect and at every level of our organisation. In FY2021 we started on a Group-wide initiative to gauge our carbon footprint with the aim of reducing our greenhouse gas emissions (GHG) and contribute towards efforts against climate change, which is considered humankind's pre-eminent challenge in present times.
In the meantime, we will continue to monitor our sustainability issues according to priority areas highlighted by the United Nations Sustainable Development Goals (UNSDG), the Global Reporting Initiative for Sustainability (GRI) and FTSE4Good Bursa Malaysia (F4GBM).
APPRECIATION
On behalf of the Board, let me express GPB's appreciation to Dato' Nadza Abdul, who had served as the Chief Executive Officer (CEO) with a high degree of duty and distinction. We thank him for his immense contribution and wish him all the best in his future endeavors.
Let me also welcome Dr Mohd Zaki Hamzah, who was initially appointed as the Executive Director on
3 September 2021 and subsequently redesignated as the Chief Executive Officer on 1 February 2022. We are confident that Dr Zaki's long service on our Board and together with his experience and knowledge in forestry, will be invaluable in propelling GPB to new heights. We look forward to his leadership in the years to come.
I would like to pay tribute to our employees, who have been instrumental in returning GPB to profitability. Your agility in overcoming challenges has made all the difference and inspires us all.
Our deepest gratitude goes out to you, our valued shareholders, for your unwavering loyalty and continued support. Your trust lends us the confidence to face whatever challenges that lie ahead. Our appreciation also goes out to our partners, associates, various authorities, bankers, suppliers and the media fraternity for your support of the Group.
Lastly, I would like to acknowledge the wise counsel and stewardship of my fellow Board members. Let us together build a new, prosperous and sustainable future.
Thank you and wassalam.
YBM DATO' HAJI TENGKU HASSAN BIN TENGKU OMAR
Chairman